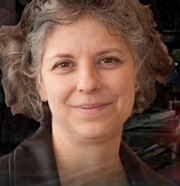 Sara B. Cooper is an American playwright who works as a writer and consulting producer for Season 2 of Sanctuary.
Cooper started her career as an acupuncturist in Los Angeles. She indulged her passion for writing in the privacy of her own home. On a whim, she showed a spec script for Star Trek: The Next Generation to a patient, who was able to get the script into the hands of the producers of the series. They brought her in to pitch and her writing career began.
In addition to creating the Cardassian race, Cooper has worked on shows like X Files, Chicago Hope, Homicide, and House. To balance out her writing and producing work, she continues to keep her acupuncture license up to date, teaches yoga and does horse massage.
Credits
Writing
Consulting Producer
External links
Community content is available under
CC-BY-SA
unless otherwise noted.