This article is about the series. For the institution, see Sanctuary Network or Old City Sanctuary.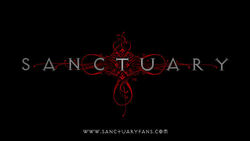 Sanctuary is a Canadian science fiction-fantasy television series, created by Damian Kindler. The show is an expansion of an eight-webisode long series that was released through the internet in early 2007 and sold directly to the viewer.
It airs on SyFy (formerly known as the Sci Fi Channel).
Sanctuary was renewed for a third season consisting of 20 episodes in December of 2009, and for a fourth season with 13 episodes in January of 2011. Months after the fourth season ended, Syfy announced on May 21, 2012 that Sanctuary will not be returning for a fifth season and that the show is cancelled. Syfy cancels Sanctuary.
The show centers on Dr. Helen Magnus, a 157 year-old[1] English scientist, and her team of experts who run the Sanctuary Network, an organization that seeks out non-human intelligent creatures, known as abnormals, and tries to help and learn from them, while also having to contain the more dangerous creatures.
Production and Release
Edit
Seeing the success of the web series, the network Syfy (formerly known as the Sci Fi Channel) decided to pick up the series for a more traditional television-based 13-episode series; it has since been renewed for a second season, also lasting 13 episodes.
The series premiered on October 3, 2008, in both Canada and the United States, and on October 6 in the United Kingdom. The premiere drew more than three million viewers, making it the highest rated series premiere since Eureka debuted on SyFy in July 2006. The premiere's two-parter, "Sanctuary For All", was a combination and rewriting of the first four webisodes. Amanda Tapping and all of the original cast from the web series transitioned to the television series. The second season premiered on October 9, 2009 in the 10pm timeslot.
Episodes
Edit
Web Series
Edit
TV Series
Edit
Notes and References
Edit
↑

as of August 2011
External links
Edit
Community content is available under
CC-BY-SA
unless otherwise noted.