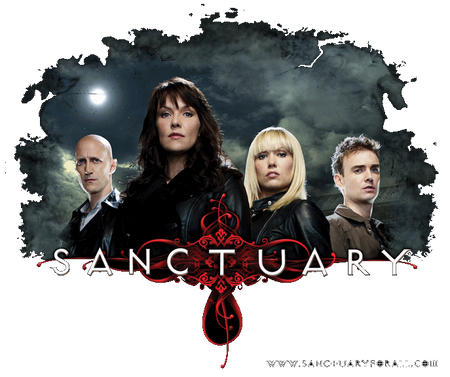 Season 1
Starring
Amanda Tapping, Robin Dunne, Emilie Ullerup

and Christopher Heyerdahl
Season 1 premiered on October 3, 2008.
An investigation into a string of bizarre robberies leads Magnus (AMANDA TAPPING) and Will (ROBIN DUNNE) to a crime ring of thieves who seem to be able to slip between the cracks of the law…literally.
|   Kush | October 24th, 2008 | 1x05 |
| --- | --- | --- |
Returning with an abnormal captured in the Himalayas, Magnus (AMANDA TAPPING) and Will (ROBIN DUNNE) are stranded from civilization and aid after their plane goes down in a desolate mountain range. While anxiously waiting for a rescue team, the surviving passengers begin to fall victim to vicious and deadly attacks throughout the night. It becomes chillingly apparent that surviving the cold is the least of their worries and no one, not even Magnus and Will, is above suspicion.
When a mating pair of cute, furry and seemingly harmless abnormals is brought in for scientific study, the Sanctuary team begins to exhibit some hidden animal attractions for one another.
While leading a covert meeting in Rome, Magnus encounters an old friend from her past who confides that the Cabal has come to exact revenge on her for the events in "Fata Morgana".
|   Edward | November 21st, 2008 | 1x08 |
| --- | --- | --- |
A young artist with an uncanny ability to draw remarkably detailed pictures from memory may be the key to solving a case surrounding the suspicious death of his abusive father.
Investigating the disappearance of an old college friend, Will (ROBIN DUNNE) finds himself caught in an underground fight club where the combatants are genetically engineered abnormals who fight to the death like modern day gladiators.
Magnus (AMANDA TAPPING) and the Sanctuary team attempt to capture a rare and deadly creature - all under the watchful eye of a local news crew.
Abnormals in remote regions are subjected to an airborne biological agent that compels them to launch a violent string of murders.
The Five, led by Magnus, attempt to find the secret labyrinth in the decimated city of Bhalasaam. Once located, they must complete a series of cryptic tests that can only be achieved using each of their unique powers.
Season 2
Starring
Amanda Tapping
Robin Dunne
Emilie Ullerup (until Episode 2x03)
Agam Darshi
Ryan Robbins
Christopher Heyerdahl
Season 2 premiered on October 9, 2009.
|   Eulogy | October 23rd, 2009 | 2x03 |
| --- | --- | --- |
Dr. Helen Magnus struggles to find closure after the destruction of many Sanctuaries around the world, while the team prepares to process and host hundreds of dispossessed Abnormals seeking refuge at Magnus' home Sanctuary.
|   Hero | October 30th, 2009 | 2x04 |
| --- | --- | --- |
Dr. Helen Magnus investigates an unlikely "superhero" who is intent on thwarting crime in the city. But his good deeds are interfering with the work of the Sanctuary and unintentionally threatening the lives of innocent people everywhere.
Dr. Helen Magnus wakes up to find the Sanctuary in ruins and the entire city decimated with no memory of how the devastation occurred.
One of the Sanctuary's research scientists is viciously attacked by a seemingly docile Abnormal. While Magnus tries to save the life of the scientist, Henry investigates the origin of the creature's uncharacteristic behavior.
When Magnus is charged with murder, Will steps in to defend her innocence. However, the evidence he finds does nothing but incriminate her further.
Will and Magnus' helicopter crashes on a decommissioned oil rig while carrying an abnormal.
When Kate gets shot by abnormal mobsters, the transport of a dangerous fire elemental turns into a journey back into her own past.
Will and Magnus investigate a number of teenagers who mysteriously disappeared. Their investigation leads them to a hospital run by Tesla, who intends to bring back Vampire-kind. However, one of the "patients" finds a way to speed up the conversion process, which creates a more powerful type of vampire.
The team rescues the occupants of a sinking ship off the coast of South Africa and teleport them to the Sanctuary. However, Magnus suspects Druitt of murdering one of the passengers during the rescue.
After receiving vital information from the head of the Tokyo Sanctuary (TATUYA ISHII), the team starts a worldwide investigation that could have alarming global consequences. Magnus, Will and Kate travel to Mumbai, India to investigate a murder and connection to the Cult of Kali, an ancient cult whose followers can foretell disaster. But when Will falls ill and then disappears, Magnus knows they are dealing with something extremely powerful… and Will is somehow linked to the mystery. First half of the two-part season finale.
Magnus starts to put the shocking details together surrounding Will's visions of Kali, his illness and his connection to the most powerful Abnormal on Earth. Second half of the two-part season finale
Season 3
Starring
Amanda Tapping
Robin Dunne
Agam Darshi
Ryan Robbins
Christopher Heyerdahl
Season 3 is set to premier at 10:00pm on Friday, October 15 on Syfy in the US and SPACE in Canada, In the United Kingdom at 9:00pm Tuesday October 19 on WATCH and on Thursday October 21 on SciFi in Australia.
Magnus risks her life to save Big Bertha from Wexford, and a tidal wave threatens the coast of Mumbai, India. Meanwhile, Will's life hangs in the balance as he tries to reach out to Kali by re-establishing his mental connection.
Following his near death experience, unwanted visitors attempt to find what is locked in Will's memories.
The Sanctuary team are forced to stage a bank robbery after a routine mission to retrieve an Abnormal egg goes wrong.
The team travel to the mountains of Colombia to track a call for help from Nikola Tesla.
After a biohazard alarm is triggered in the Sanctuary, Kate's body is taken over by an abnormal the team encountered before.
|   Animus | November 19th, 2010 | 3x06 |
| --- | --- | --- |
Henry and Will investigate a werewolf sighting in England, while Magnus and Tesla try to crack a secret left behind by Gregory Magnus.
|   Breach | November 26th, 2010 | 3x07 |
| --- | --- | --- |
An annonymous call leads Magnus in to a trap and a confrontation with an old enemy seeking vengeance for a past betrayl.
After capturing a dangerous enemy with ties to her past, Magnus is forced to recount a time she would rather forget. A time when the young Five were almost destroyed and horrible secret was discovered.
While the Sanctuary team keeps looking for a way to enter Hollow Earth, Bigfoot has to deal with a dangerous enemy who targets Abnormals.
Magnus and her team enter Hollow Earth and get to know the inhabitants, some of which are friendly while others prove hostile.
The team is brought back from the dead to help find Adam Worth, who has stolen a powerful artifact from Praxis.
Returning home from an overnight trip, Magnus is stunned to find the Sanctuary in a complete and utter shambles - only hours before a scheduled inspection by the United Nations.
Looking to share a quiet, "normal" evening out with Abby, Will and his date are abducted en route to the restaurant by a desperate gang leader who faces certain death without their help. Then, upon learning the abductor's identity, Magnus suddenly ceases all attempts at rescue.
Will is uncharacteristically absent from the morning team meeting. His reason for not attending has him literally climbing the walls.
Will and Henry's double date goes awry when Magnus insists they do a straight-forward delivery of an Abnormal on the way to their dinner reservations.
Tesla and Magnus encounter Afina, queen of the vampires.
In a look back to World War II, Helen Magnus, James Watson, and Nigel Griffin experience the events of D-Day... and Magnus's role in one of the most important events in history is described.
A colleague vanishes amid unexplained disappearances in the French town of Carentan, where Magnus and her team run into a military blockade during their investigation.
Magnus and Will find themselves in an alternate reality, living as suburban neighbors, who experience unsettling dreams that disrupt their new careers.
A group of abnormals has to be contained, and Magnus finds herself in a jurisdictional battle with the UN and a private security firm that wants to seize control of the Abnormals and take over the project from the Sanctuary Network. ( Season Finale )
Season 4
Starring
Amanda Tapping
Robin Dunne
Agam Darshi
Ryan Robbins
Christopher Heyerdahl
Season 4.
Magnus has been transported to 19th century London through Adam Worth's time portal, and must now find a way to stop his evil plans.
Will, Kate and Bigfoot struggle to prevent an all-out Abnormal war.
Will and Magnus must explain a mission gone wrong to a UN inspector before the Sanctuary's funding is cut off.
A hostage situation unfolds when Magnus flies to a remote island off of Africa to meet the Sanctuary's new financial adviser; a shipping container mix up has Will and Henry tracking a missing abnormal.
The team tracks an Abnormal fugitive, and discovers that Tesla is the head of a secret research lab for a Homeland Security agency that conducts tests on Abnormals.
Will runs into unexpected trouble, and personal revelations, on a trip to the Liberian Sanctuary in Monrovia. Meanwhile, Magnus has her hands full when a couple of never-do-well abnormals recruit her help with a questionable scheme.
When a team from the UK Sanctuary gets in trouble on a stranded icebreaker in the Bering Sea, Magnus and Will must figure out who is behind the mysterious happenings at sea.
|   Fugue | November 25th, 2011 | 4x08 |
| --- | --- | --- |
A mysterious abnormal attacks , and Magnus and Will discover there is only one way to communicate with this unusual enemy -- through music.
A dangerous computer program threatens the Sanctuary, causing Magnus and Tesla to dwell into the computer network.
Trouble from Hollow Earth leads to a reunion ... and an unexpected betrayal.
In search for a legendary abnormal, Magnus and Will become trapped by a cave-in.
A final confrontation looms as the team races to prevent another all out conflict between humans and abnormals.
After Magnus has announced the existence of abnormals to the world, her great plan is set into motion. Meanwhile, Tesla realizes he may have handed SCIU the means to build a doomsday weapon.
Community content is available under
CC-BY-SA
unless otherwise noted.