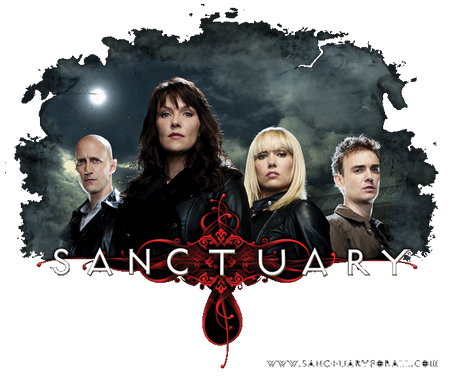 Starring
Amanda Tapping, Robin Dunne, Emilie Ullerup

and Christopher Heyerdahl
Season 1 premiered on October 3rd, 2008.
When called to the scene of a horrendous crime, Dr. Will Zimmerman sees that the police are not being told the whole truth. His insights into the case attract the interest of Dr. Helen Magnus who introduces him to her Sanctuary for 'abnormals', creatures that have remained hidden from most of the world only appearing occasionally as characters in stories and myths.
After thieves make a dramatic escape that baffles police, Dr. Helen Magnus suspects an abnormal's involvement. The robbery reminds Dr. Will Zimmerman of an old FBI case he could not solve; but this time he will.
After capturing a particularly elusive abnormal, the plane carrying Dr. Helen Magnus and Dr. Will Zimmerman crashes while transporting the creature. Dr. Magnus and Will soon discover why this abnormal has never been captured before.
Desperate to get her first exclusive story, a reporter and her cameraman sneak inside an evacuated building. Inside they find Dr. Helen Magnus and her team, and a creature greater than any of them were prepared for.
In an unprecedented alliance, John Druitt and Sherlock Holmes work with the Sanctuary team to deduce why normally placid abnormals are running amok. Their plan, to find a cure and infiltrate their prime suspect, The Cabal.
Starring
Amanda Tapping
Robin Dunne
Emilie Ullerup (Last Episode 2x03 - "Eulogy")
Agam Darshi
Ryan Robbins
Christopher Heyerdahl
Season 2 premiered on October 9th, 2009.
In the wake of an unexpected betrayal, the Sanctuary must pull together to figure out the Cabal's master scheme in time to save those closest to them and the whole world.
The Sanctuary team hunts down a man who seems to have superpowers, calling himself "The Adjuster". But they discover that his suit is the source of his power, and it is slowly killing him. But he can't get it off.
When Dr. Helen Magnus awakes to darkness, she must face a destroyed Sanctuary, city, and even world. But beneath the apocalypse, something deeper awaits her discovery if she can find it in time.
While transporting a usually docile abnormal, Dr. Helen Magnus's helicopter crashes, leaving her and Dr. Will Zimmerman stranded in the shaft of an abandoned oil rig. They soon find they are not alone in the water.
While an old friend of Magnus', a pouched abnormal named Jimmy, is handing over a Fire Elemental to the Sanctuary team, they are attacked by a gang of criminal abnormals from Chicago. The situation presents a lot of mysteries to be solved and quickly.
When a ship full of Zulu empaths suddenly goes to wreck, John Druitt rescues them as a favor to Dr. Helen Magnus. However a bitter discovery awaits her: his dark side is alive again and can even have a life of its own!
After peaceful abnormals worldwide act up at the same moment, the incident is linked to an EM pulse originating in Mumbai. Dr. Will Zimmerman and Kate Freelander go to investigate, and they soon discover that the event may relate to a dangerously-powerful abnormal.
Dr. Will Zimmerman begins to experience strange visions that are connected to the Cult of Kali. Dr. Helen Magnus has difficulty with finding the solution to their problems.
Starring
Amanda Tapping
Robin Dunne
Agam Darshi
Ryan Robbins
Christopher Heyerdahl
Season 3 is set to premier at 10:00pm on Friday, October 15th,2010 on Syfy in the US and SPACE in Canada, In the United Kingdom at 9:00pm Tuesday October 19th,2010 on WATCH and on Thursday October 21st, 2010 on SciFi in Australia.
Dr. Will Zimmerman is having trouble recovering after his experience with Kali, but the team soon finds that insomnia is the least of his problems. Dr. Helen Magnus discovers an unbelievable gift from an equally unbelievable source.
The team gets a cryptic distress call that could only come from one person...Nikola Tesla.
During an attempt by the creator of the suit to get the suit back, it latches onto Kate Freelander, who runs away to use it for her own purposes. Dr. Helen Magnus turns to Walter to help get the suit, and Kate, back before the creator does.
Another abnormal rendezvous goes awry, this time in a way no one could have ever seen coming.
The expedition to Hollow Earth is on, as the team searches for a way to cure Dr. Helen Magnus. But instead of salvation, they may find something more sinister waiting below.
When Hollow Earth faces much bigger threats than intruders from the surface, they must choose unlikely allies for help.
Dr. Helen Magnus returns home from an overnight trip to find the Old City Sanctuary in a state of confounding chaos: Battle debris everywhere, no one in sight, and a scheduled UN Security Team inspection just hours away.
Look back on younger days with The Five as they take on Nazis during D-Day in 1944.
The Sanctuary receives reports of unexplained disappearances in Carentan in the Normandy region of France and sets off to investigate the strange occurrences.
The exodus from Hollow Earth begins, and time is of the essence as the Sanctuary stands between the abnormal refuges and the demanding UN. As they try to maintain peace, Dr. Helen Magnus receives a surprising warning from an unexpected source.
Starring
Amanda Tapping
Robin Dunne
Agam Darshi
Ryan Robbins
Christopher Heyerdahl
Season 4 premiered on October 7th, 2011.
FBI Agent Abby Corrigan's life is endangered after she is suddenly attacked by an unfamiliar abnormal during an investigation; Dr. Helen Magnus and Dr. Will Zimmerman's heated debate over the best way to help Abby threatens to permanently alter their relationship.
A radical group of abnormal beings plan a terrorist attack with the goal of starting a war between surface dwellers and Hollow Earth inhabitants. To Dr. Helen Magnus' disbelief, Greg Addison, at the NSA, has proof of Bigfoot's leadership of the group.
When the Sanctuary is approached by an abnormal leader about a radical plan for peace, Dr. Helen Magnus goes all in and pledges her full support. However, when Dr. Will Zimmerman is forced to leave the Sanctuary, his decision may just put everyone at risk.