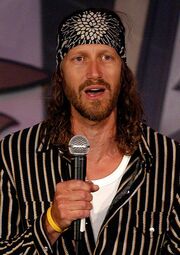 Christopher Heyerdahl is a Canadian actor who plays the characters John Druitt and Bigfoot on Sanctuary. He has also appeared on the Sci-Fi series "Stargate Atlantis" as various Wraith characters. He is 6' 4" (1.93 m) tall.
Christopher was born in the mountains of British Columbia, making him a first generation Canadian. Heyerdahl is half Norwegian, and the late explorer Thor Heyerdahl was his father's cousin. He is also a gifted hockey player, and was once asked to play for the Ottawa Senators.
Heyerdahl is known for his role as Leonid in the "Are You Afraid of the Dark?" episode "The Thirteenth Floor" and as Nosferatu in the episode "Midnight Madness". He played the characters of Halling and the Wraith commander Todd in "Stargate Atlantis", and Pallan in the "Stargate SG-1" episode "Revisions". He played H. P. Lovecraft in the movie "Out of Mind" (1998) and a punk, new at drug dealing, in "Cadavres (2009)".
Roles
References, External Links, and Website
Community content is available under
CC-BY-SA
unless otherwise noted.